Enterprise Platform Redesign
Code Camp's existing CMS managed thousands of students, their projects, teachers and school relationships every month, but had evolved "naturally" with the business in it's early days. Tasks & workflows existed in mysterious silos, redundant pages made navigation confusing and diverse UI patterns made it hard to complete new tasks in the system without experience or close supervision.
International expansion and increasing volume of customers necessitated a redesign to help employees manage camps, ease new employees into their roles and patterns for new features. I led discovery, design & testing across this project.
I started by interviewing employees to understand existing processes at the company & map them out. This step alone helped clarify what was actually happening across the business as well as get an idea of the core employee personas.

Later, I was able to gather usage data to build an idea of current pain points, and influence the latter IA steps.
 
My next step was establishing an understanding of the existing Information Architecture needs. First, I set up up card sorting exercises with staff in Optimal Workshop that focused on their perceived activities rather than the existing architecture.
Then, I did a content audit of the existing system on paper, which I workshopped with the executives to build a completely new IA that reflected the results of our research and future business intentions.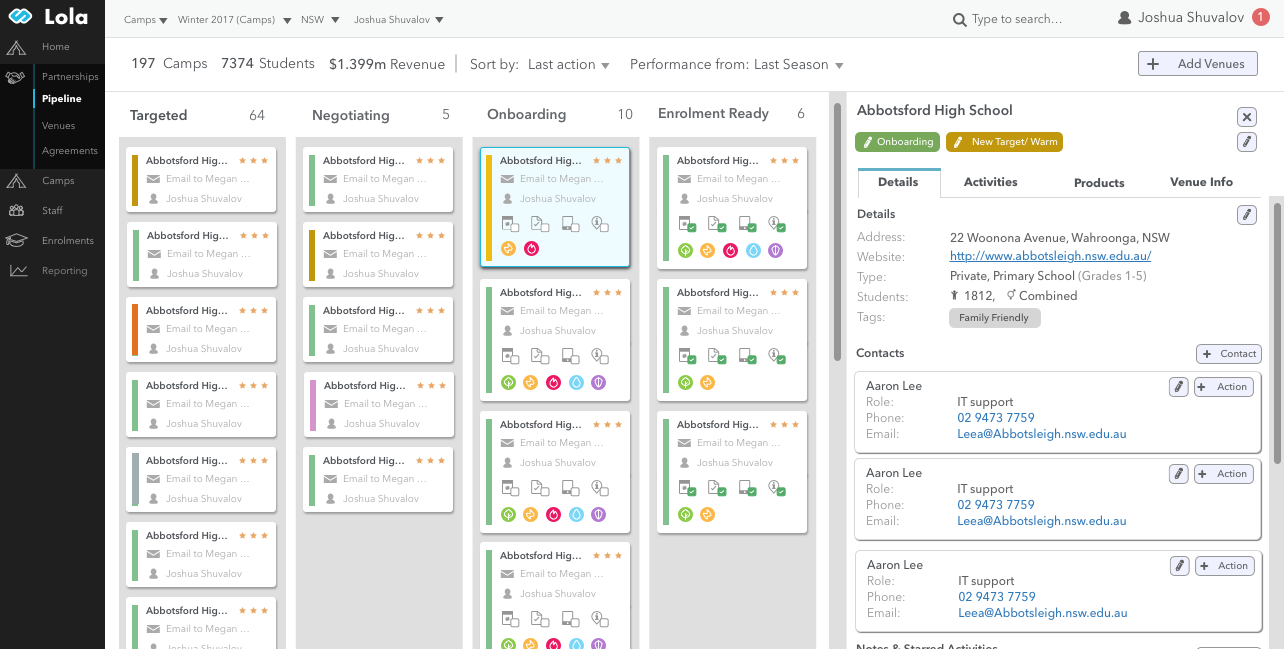 Explored & validated design concepts
I created wireframes and built simple prototypes to test with our employees & review our ideas against business/technical requirements. The main focus was ensuring the new navigation made sense to existing employees, and would be resilient to an expanding business's needs (e.g. "Camp" concepts versus "product" concepts as our offerings expanded).

Another challenge in this project was how much our in-house system should replace external tools. When we began, school relationships and camp operations were managed in a range of systems by individual business development executives, and then the records duplicated in the enterprise system. Rather than rebuild those external systems, we focused initially on just reducing data re-entry with more streamlined processes.
As we became more comfortable with the changes, I created a more polished set of designs which covered the enterprise system in more detail, including establishing some common interaction patterns (e.g. consistent buttons for exporting or adding content)., new colours and pixel (almost) perfect layouts.

It's worth noting that development times on most features in this project were exceptionally fast, and as we continued to iterate on the changes we were able test "production" builds of the platform with employees faster than I could build the relevant prototypes!
Introduced features for school & camp pipeline management that reduced the need for management of tasks across multiple tools (e.g. extra spreadsheets & calendars that then needed to be reconciled with the enterprise system).
Created & delivered a new information architecture for the enterprise platform that made it easier for new employees in international offices to find relevant information, and simplified navigation for existing users. This is in addition to a removing an immense weight of usability debt that had built up in redundant pages.
COnsolidated button styles and action layouts across the platform to create a more consistent experience (e.g.